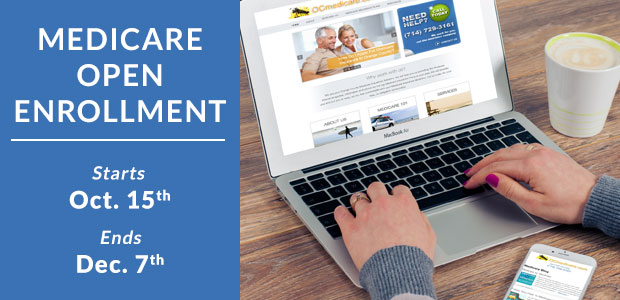 Every year Medicare participants have the opportunity to adjust their plans and coverage in the medicare open enrollment period, which starts every year on October 15th and ends on December 7th. By taking advantage of the medicare open enrollment period participants could potentially save hundreds of dollars. Unfortunately, people do not use this time to adjust their plans and miss out on savings.
Why? It can be overwhelming.
Our experts are here to help you through this process. We also want to give you a few tips to help you make good decisions in this medicare open enrollment period.
Review

Take time to review your current plan. Medicare is a great program for seniors, but it doesn't run on auto pilot. Evaluate if your plan still meets all your needs. Plans change and so does your health. What worked for you last year may not be what works for you this upcoming year.
2017 Medicare Handbook
Stay on top of changes by reviewing next year's Medicare & You Handbook. Know in advance what your Medicare costs and benefits for the upcoming 2017 year will be. If you are unsatisfied with your coverage, this open enrollment period is your chance to make changes, they will take effect January 1 of the next year.
Premiums
Low premium plans may be tempting but be sure you look at more than just the low premiums. Consider out of pocket costs, co-payments, co-insurance and annual deductibles as well as the monthly premium. This will give you a more accurate monthly payment to compare costs with.
Doctors and Medications
Check if your health care provider is still in your plan's network. If not you will need to consider changing doctors or paying extra to see the out of network doctor. Also, check that your medications are still covered in your plan of choice. But don't just stop there. Check details like quantity limits, prior authorization, or if the covered pharmacies are easy for you to access.
It's Ok To Ask For Help
You are not alone! Contact us and let us be your guide. We provide a no obligation free consultation! We've been helping people just like you for over 30 years and feel confident that we can help you make the best decision for yourself regarding your Medicare Insurance needs.
With the 2017 enrollment season almost upon us, October 15, it's time to start thinking about the best ways to prepare for Medicare enrollment. Whether you need to change a plan or start your first one we are here to help.
Contact us today!
714-729-3161